---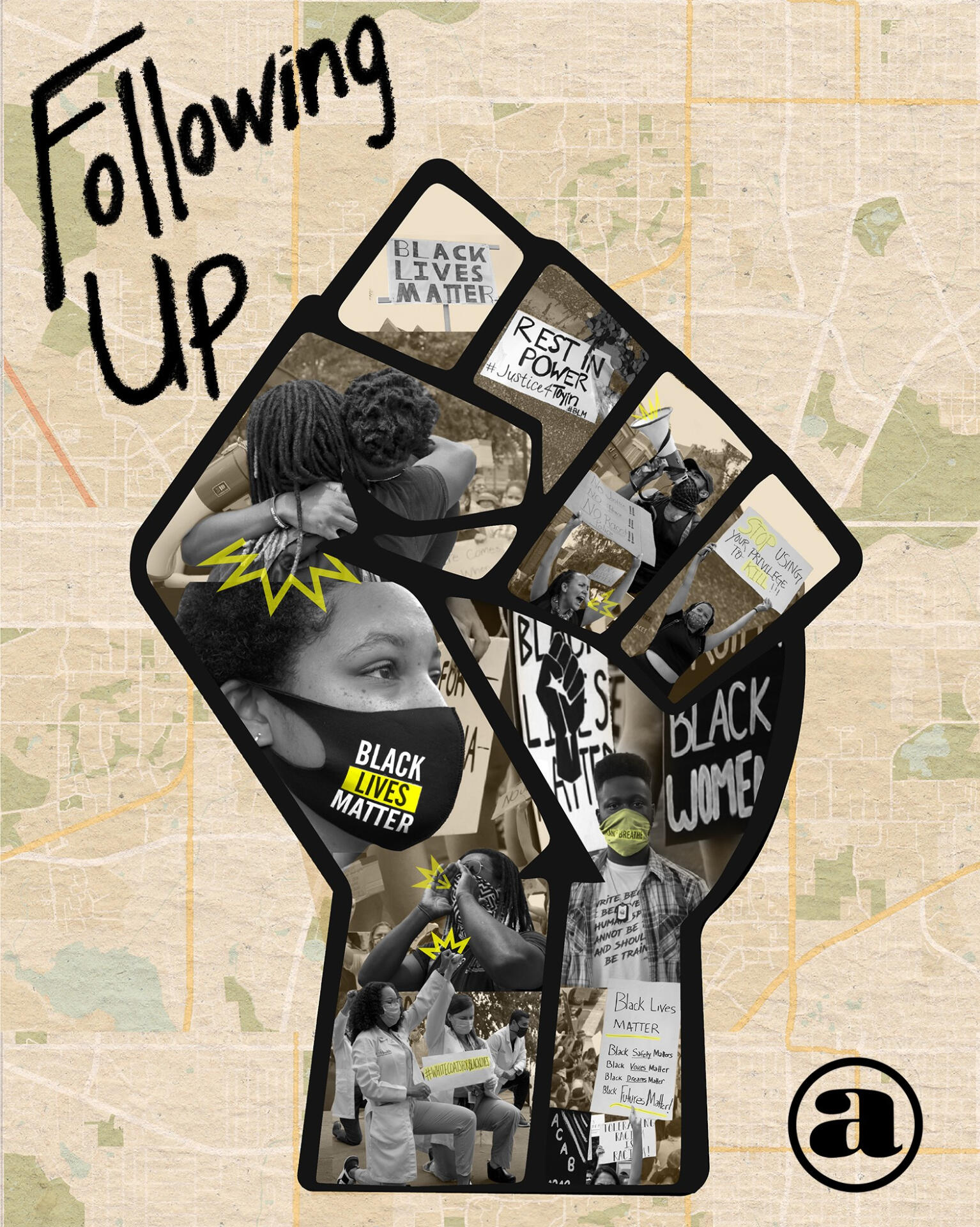 Graphic by Alex Brown
FOLLOWING UP
---
Alligator Staff Report
A year ago, the murder of George Floyd and the Black Lives Matter movement reverberated around the world. The Gainesville community, including UF's campus, followed suit. Petitions, social media campaigns and demonstrations called for attention to racial equality within local law enforcement and university campuses. Now, The Alligator is checking in on how much progress has been made.
---
---
A year later: what progress has UF made in its anti-racism initiatives?
The Alligator spoke to student leaders and UF administrators to find out
By Makiya Seminera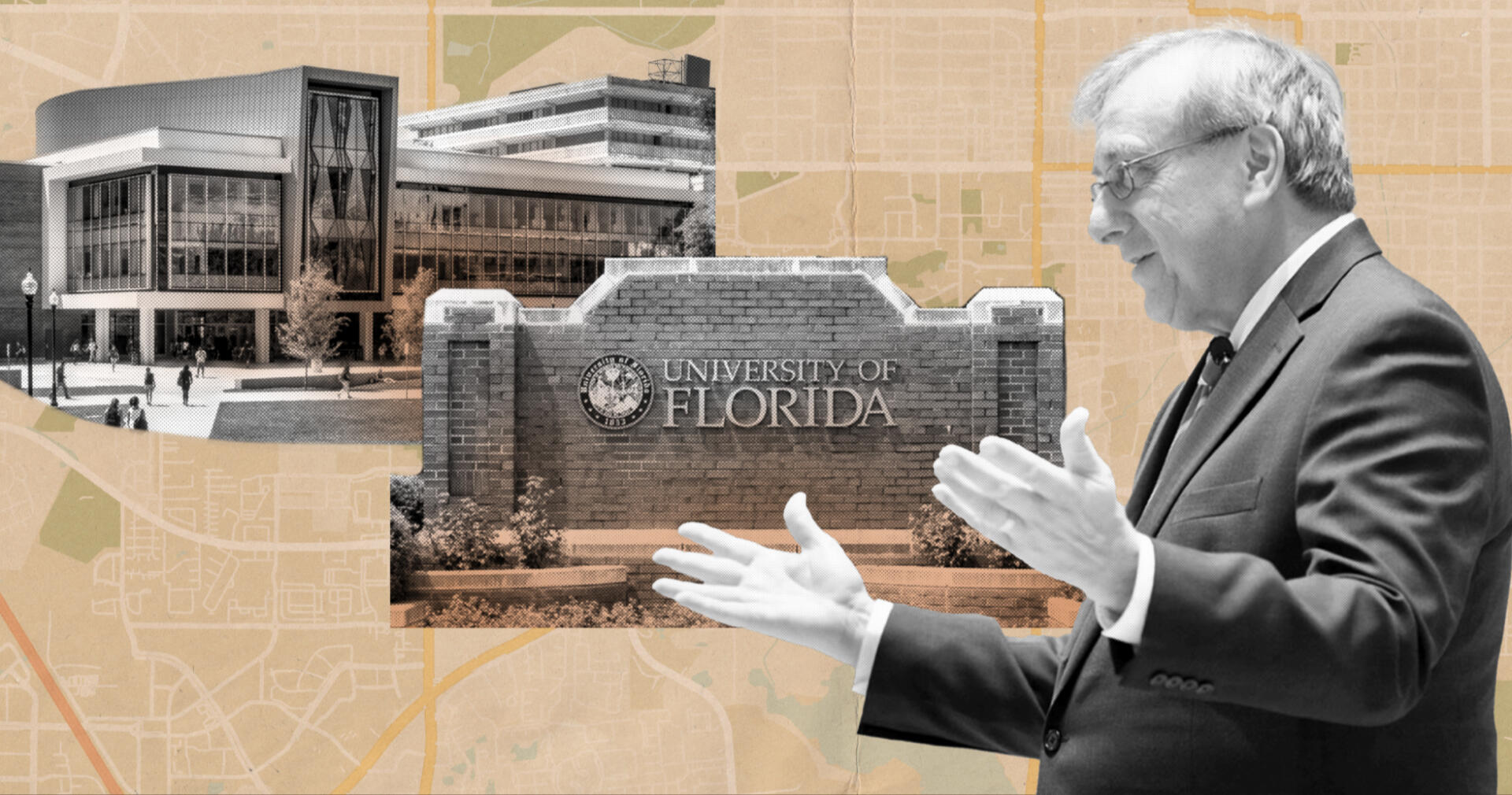 Graphic by Alex Brown
Last summer, calls for racial equity drove people with authority across the country to commit to substantial social change. A year later, The Alligator is following up on how much progress those promises have made.

Following the murder of George Floyd, the Black Lives Matter movement reverberated around the world. UF's campus was no exception. Calls for racial equity took form in Gainesville through petitions, social media campaigns and demonstrations — evoking a response from university administration to promise change.

As a predominantly white institution and one of the oldest universities in Florida, UF has an unmistakably long history of racial injustice to reconcile following Floyd's murder.

In 2017, white nationalist Richard Spencer was hosted on UF's campus, which led a white nationalist supporter to shoot at a group of protestors at the intersection of Southwest 34th Street and Southwest Archer Road.

A year later, a study from University of Southern California gave UF an F rating in racial representation. The same year, the university also came under fire after a video went viral of a UF employee aggressively rushing Black graduates off the stage during their commencement ceremony.

At the end of 2019, UF student Kitan Adeniji and a group of her friends were called racial slurs by a white male student in a SNAP van.

This year, the university commemorated the 50th anniversary of Black Thursday — the day when about 70 Black students marched to Tigert Hall to deliver their list of six demands for improving racial equity at UF to former university president Stephen O'Connell. The protest resulted in the arrest and suspension of almost every demonstrator, which prompted nearly 1,500 people to return and protest the arrests.

Black Thursday evoked a variety of responses from UF, including the establishment of the Institute of Black Culture and intensification of Black student recruitment measures.

Thirteen days after BSU issued a list of ten demands, including a zero-tolerance policy to hate speech, sufficient scholarships for Black incoming students and immunity to students arrested in peaceful protests, UF President Kent Fuchs released a statement, "Another Step Toward Positive Change Against Racism." It outlined actions meant to address and eradicate racism and inequity at UF. The 15-point list was organized to address three areas of anti-racism work: education, history and representation.

Some points on Fuchs' list were quickly resolved, like discontinuing the Gator Bait cheer and the use of prison labor by UF's Institute of Food and Agricultural Science. Other points, like implementing reforms in the UF Police Department, supporting the recruitment and retention of Black students and faculty and renaming buildings remain an ongoing effort.

Fuchs said he's proud of the level of engagement in the anti-racism initiatives from all parts of campus and disciplines.

"This is a university where everyone, no matter who they are, or what parts of the world [they come from], their ethnicity, their race, their gender, their sexuality, this is the place that wants them to be here and wants them to be phenomenally successful, and not just as an institution but for each other," Fuchs said.

During the largely virtual and socially distant year, COVID-19 has been a hindrance to the university's anti-racism initiatives. Some UF departments found themselves overwhelmed with implementing new COVID-19 protocols rather than combating systemic racism.
Black Student and Faculty Recruitment and Retention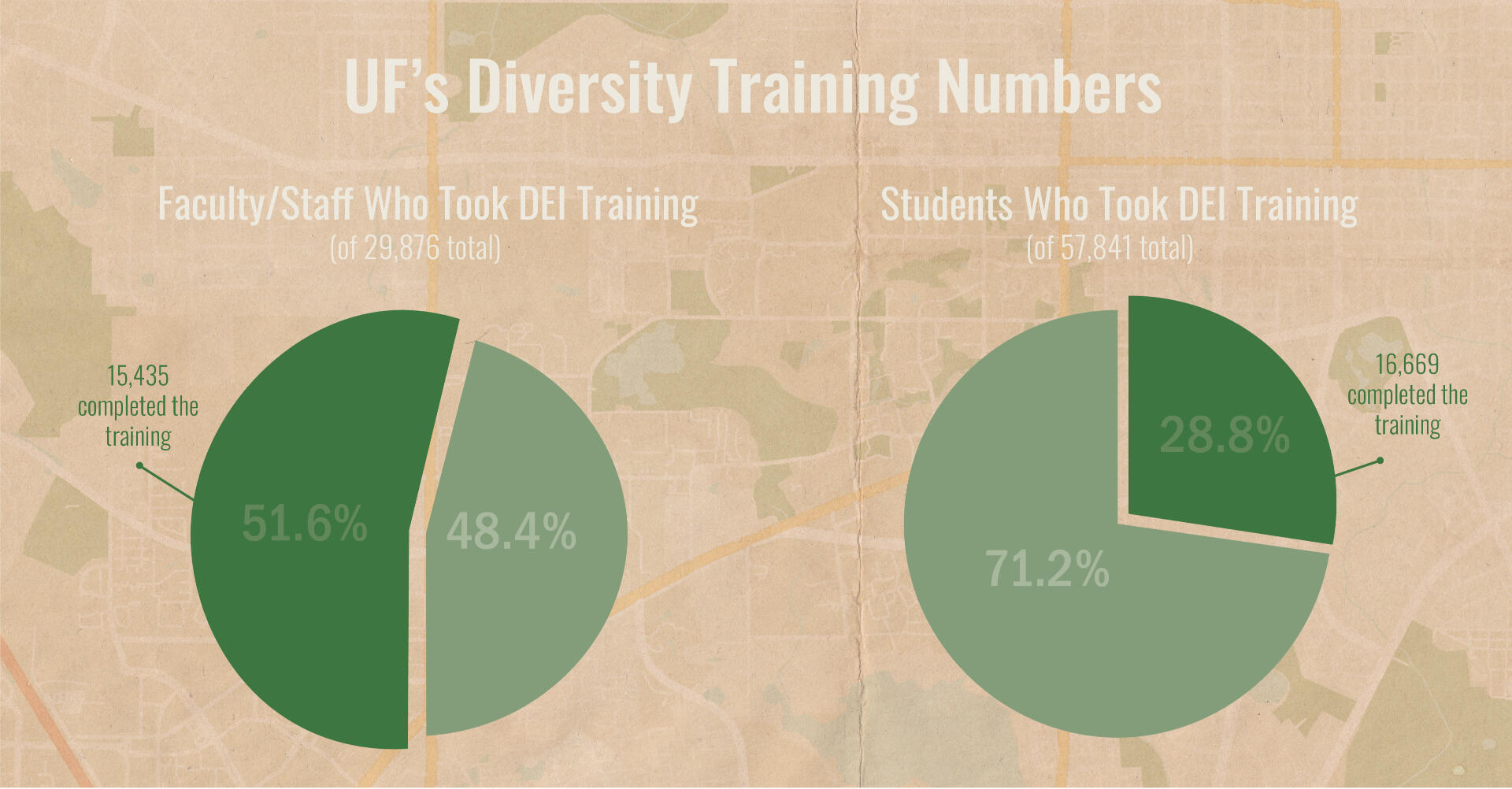 Graphic by Shelby Cotta
One of UF's initiatives was to increase Black student and faculty recruitment and retention.

Only 5.5% of UF Class of 2025 admits were Black, excluding those accepted into PaCE or Innovation Academy. UF's admissions demographics data showed 845 Black applicants accepted to UF — 47 fewer from the previous year's Black admission rate.

In comparison, 48.9% of admits were white, 12.8% of admits were Asian and 18.8% of admits were Hispanic. Hispanic applicants also saw a dip in acceptance rates, with 101 fewer Hispanic admits this year than for the Class of 2024.

To Fuchs, one of UF's greatest challenges has been creating a student population that reflects national demographics.

"[Improving Black recruitment], that's an enduring effort, I believe, that will continue for years. It's not one that we want to be slow on," Fuchs said. "But it's one that we have to continue to be committed to, not just to do it and check it off. It has to be continual."

UF's new vice president for enrollment, Mary Parker, is also expected to be a leader in revamping admissions when she arrives in Fall, Fuchs said. Through her position, Parker will prioritize the improvement of Black student recruitment.

Charles Murphy, director of freshman and international admissions, said he is unhappy with this stagnation.

"There's definitely a lot of work that we need to do for underrepresented populations generally," Murphy said. "I don't think there's anyone, certainly in the admissions office or probably on campus, that is satisfied with where we are with that right now."

A decrease in Black enrollment is not a new trend for the university. Since 2010, UF has seen nearly a 4% drop in Black undergraduate enrollment, with 2020 having the lowest percentage — 5.61%. Of the 37,881 degree-seeking undergraduates in Fall 2020, 2,127 were Black, according to UF's diversity dashboard.

Answers to why Black applicants were accepted at a much lower rate cannot be reduced to one answer, but Murphy said it's hard to ignore COVID-19 as a factor.

Coronavirus disproportionately affects minority groups due to discrimination, barriers to healthcare access, occupation as essential workers and wealth gaps, according to the Centers for Disease Control and Prevention. Due to these disadvantages, some minority students may have had greater difficulty submitting applications or maintaining higher grades.

As a way to improve recruitment for students of color at UF, the admissions office is looking into allowing students to self-report their official SAT or ACT scores to help avoid extra application fees.

Increasing the number of Black faculty at UF has been another point of concern for organizations like BSU, which requested to see at least a 5% increase in the Black professional population by hiring more Black faculty at all colleges.

Unlike the Black undergraduate population, the amount of Black faculty working at UF has trended upward since 2010 — by less than 1%. If the university's Black faculty growth continued at the same rate, UF would not reach BSU's demand until 2102.

As of 2020, Black faculty made up 4.62% of the UF faculty workforce.

Both the Black student and faculty populations demonstrate a stark contrast with current U.S. racial demographics, with Black Americans making up 13.4% of the population, according to 2019 Census data. UF shows an even wider disparity from the state of Florida, where 16.9% of the population is Black.
Renaming buildings and UF's history with race
Calls to rename the Reitz Union roared from protestors outside the building last October — only one of many ways UF students and faculty voiced their concern for changing its name. In their list of demands, BSU called upon the university to consider renaming buildings like the Stephen O'Connell Center due to their ties to racist and homophobic histories. During last October's protest, demonstrators pushed for the university to rename the Reitz Union after Virgil Hawkins, a Black applicant who was denied acceptance to UF on the basis of race.

Fuchs outlined two new presidential task forces focusing on history and symbolism at the university. Both task forces led missions to reconcile with UF's involvement in discrimination, whether it be through reporting on UF's history or establishing honorary naming practices.

Fuchs said the university does not plan to replace honorary namings with other names. Instead, future and past namings will be evaluated separately.

Led by UF's general counsel Amy Hass, the second presidential task force reviews and recommends criteria for the process of establishing future honorary namings of UF buildings — buildings named for individuals who significantly contributed to Florida or the university.

The task force is not in charge of renaming buildings, Aysia Gilbert, the only undergraduate member of the 14-person second presidential task force, said. Instead, UF administration will utilize the task force's values and recommendations to decide whether to rename buildings.

"I would hope that we are able to create a message for people who are actually going to be in charge of changing these names to where they have to take into consideration this is just not something that we want on our campus," the 20-year-old history sophomore said.

The process of renaming UF buildings is split into two phases — documenting all honorary namings at UF and deciding what names should be removed. Since the task force started developing criteria for future honorific namings and compiling a list of all current honorific namings in November, the process could take at least a year, Fuchs said.

Some honorary namings are under the jurisdiction of the Florida legislature and require a vote to remove the name, Fuchs said.

The first presidential task force outlined in Fuchs' initiatives, led by executive chief of staff Winfred Phillips, documents UF's history with race and ethnicity.

Currently, the first presidential task force is in the process of finalizing its report. Adreanne Martinez, a 23-year-old first-year law student and member of the task force, hopes the report will be accessible to the public in the next few months.

Since October, the 11-person task force researched three critical time periods: 1853-1905, 1906-1958, and 1959-2020. The task force specifically addressed Native American history at UF, Martinez said.

"I would have liked to see a couple more undergraduates on [the task force], maybe a couple more grad students," Martinez said. "I think that's important because our goals essentially are supposed to be serving the students [and] like how do we make it more welcoming for them."

On June 2, 2020, Student Government Senate passed a resolution written by Martinez and five other students that recommended forming the current UF Working Group on Indigenous Expropriation and Slavery to further the study of UF's connection to Native American removal and slavery.

Martinez was later recommended to join the presidential task force by former Chief Diversity Officer Antonio Farias.

Both presidential task forces will be dissolved after they complete their individual missions.
Finding a New Chief Diversity Officer
Last Spring, the resignation of Antonio Farias, UF's first Chief Diversity Officer, created an obstacle for the university in its pursuit to combat systemic racism.

According to UF's Anti-Racism website, Farias was in charge of two central anti-racism initiatives: strengthening recruitment and retention of students and faculty of color, as well as facilitating the focus of the 2020-2021 academic year to the Black experience and racism.

Due to the CDO's vital role in supporting a more diverse university, the necessity for a replacement prompted a thorough search from administration.

In what seemed to be the end of a months-long hiring process, the search committee narrowed down the applicant pool to four finalists: Marquita Booker, Kauline Cipriani, Lakesha Butler and Seval Yildirim. After the applicants visited campus and interviewed, the university decided not to select any of the candidates and begin the search process again this summer, according to Fuchs.

Due to UF's size and comprehensive nature, administration decided they wanted someone from a university of a similar scale, Fuchs said.

The university is currently welcoming applications and nominations for the position, Jodi Gentry, vice president for human resources, wrote in an email. The hiring committee plans to invite candidates to campus in early Fall and select the next CDO by later in the Fall semester.

In the absence of a new CDO, important anti-racism initiatives have been distributed to liaisons across the colleges. The new allocation of tasks is temporary until the new CDO is hired, Fuchs said.

For students like Dayanna Peek, a Black 19-year-old international studies and public relations sophomore, hiring a CDO who is able to personally relate to the student body should be a top priority.

"I prefer for the CDO to be a person of color, that's like bare minimum. And I feel like they should actually be in tune with the students," Peek said. "You should be interacting with students and finding out what they really want and what they need."
Student Government's role in anti-racism
As the voice of the student body, UF's Student Government had a large role to fulfill in pushing UF's anti-racism initiatives.

Despite former Student Body President Trevor Pope issuing an executive order denouncing national racist incidents after the murder of George Floyd, there was not an approved SG Senate resolution recognizing the Black Lives Matter movement until nearly four months later on Sept. 15, 2020.

Throughout the 2020-2021 school year, Senate also passed resolutions denouncing digital racism, supporting the creation of a first-generation Living Learning Community in Murphree Area that would benefit underrepresented students, and calling upon the university to create the Working Group on Indigenous Expropriation and Slavery.

BSU's demands and Fuchs' anti-racism points also called on Accent Speakers Bureau as a venue to bring more diverse speakers to campus.

In the past, Accent speakers have stirred controversy on UF's campus, most notably Donald Trump Jr. and Kimberly Guilfoyle in 2019. The Accent event elicited a large student protest and an attempt to impeach former Student Body President Michael Murphy.

Accent hosted four Black speaker events in the 2020-2021 school year: Black Lives Matter founders Patrisse Cullors, Alicia Garza and Opal Tometi, women's rights leader Anita Hill, social media personality Tabitha Brown and actress Tiffany Haddish.

The events made up a fourth of all Accent events for the 2020-2021 academic year.

The increase of Black speakers was a positive step for the speakers bureau — the last Black speaker it brought was Saturday Night Live cast member Jay Pharaoh in 2018.

Despite inviting a more diverse array of speakers than previous years, Accent paid the three Black Lives Matter founders $10,000 each — less than the $50,000 Accent spent to bring Trump Jr. and Guilfoyle to speak in 2019.

Students also expressed dissatisfaction with Accent's last speaker of the 2020-2021 school year, Dave Portnoy, the founder of Barstool Sports. Portnoy, who is white, was recorded using the N-word and calling former NFL quarterback Colin Kaepernick an "ISIS guy."

For the new school year, Student Government ushered in a new administration from the Gator Party, led by Student Body President Cooper Brown, Student Body Vice President Faith Maniti and Student Body Treasurer Giovanna Mompremier.

In its Spring platform, Gator Party did not specifically address racial equity on campus.

Since taking office, Brown's administration plans to push anti-racism with Students Taking Action Against Racism. STAAR seeks to improve campus race relations through educational workshops, speaker panels and collaborative events with multicultural organizations.

The agency's co-chairs for the 2021-2022 school year, Hannah Thomas and William Ortiz, joined STAAR to expand their involvement in improving diversity and inclusion at UF.

"I was at such a low point emotionally [last summer] that it was everything to be able to do something with those emotions and with that energy and feel like I was doing something that would positively affect students," Thomas said.

Collaboration with other agencies and cabinets is another essential part of making sure that every student's voice is heard, Thomas said.

The agency wants to shift from social media outreach to community events this upcoming year, Ortiz said. Becoming more proactive with activism rather than social media-based education is an additional area STAAR hopes to improve on.
Funding Racial Equity Research
As part of the effort to focus the 2020-2021 academic year on the Black experience, racism and inequity, a call for proposals was put out from the Office of Research to fund faculty research projects for the $400,000 Advancing Racial Justice Research Fund last summer.

Forty-five applicants answered the call, which encouraged proposals that were directly relevant to the Black experience at UF to be submitted by September 2020, according to Sobha Jaishankar, Ph.D., assistant vice president of research. With the help of the Chief Diversity Officer, the Office of Research assembled a review committee to distribute proposals for grading.

Each proposal was reviewed by at least three faculty members on the basis of four components: addressing a significant challenge in the Black experience, having a potential considerable impact at UF, possessing relevant experience and leadership to pursue the research, and assembling a diverse and cohesive research team.

After careful evaluation, 14 proposals were selected to receive money from the Advancing Racial Justice Fund from a much larger pool of funding than anticipated — $970,000.

"We had initially put aside $400,000 towards this initiative based on the quality of the proposals and the number of proposals," Jaishankar said. "The research was so exciting that [the Office of Research] was able to allocate more funds, and therefore, we had close to a million dollars being funded."

The 14 research projects spanned across nine UF colleges and were given a year-long project period.

Currently, the Office of Research is not sure whether they will continue to fund more projects through the Advancing Racial Justice Research Fund. Discussions on whether to continue the funding will most likely occur in August or September.
Reevaluating UF curriculum
For many years, IDS1161: What is the Good Life was a course every UF freshman would have to sit through, whether they loved it or hated it. One petition set out to change that last summer.

Written by UF alumna Sarah Klein, the petition garnered over 26,000 signatures to push the university to re quire ANT3451: Race and Racism, which ultimately resulted in UF declining the proposition. Instead, Quest 1 courses have been expanded to address more diverse topics — many of which discuss race.

"UF Quest has been charged with developing a curriculum that prioritizes student choice and the individual areas of expertise of the faculty teaching UF Quest courses so that students could choose from a range of courses to fulfill the UF Quest requirement," Steve Orlando wrote in an email.

Although Race and Racism did not become either required or an option for Quest 1 courses, the Quest program demonstrated considerable growth in the number of classes dealing with topics of race and diversity within the past two years.

In the 2019-2020 school year, UF Quest offered 13 different courses that satisfied the diversity general education requirement, with four specifically addressing race in their course description. The number of courses that fulfilled the diversity credit in the 2020-2021 academic year rose to 16, five of those discussing race.

For the 2021 Fall semester alone, UF Quest will have a 15-course catalog of diversity-designated classes for students to select from. Eight of those courses will specifically explore race.

Part of this growth in both diversity and race-focused courses in the UF Quest program can be attributed to this year's call for new Quest proposals, which directly encouraged faculty to submit proposals for classes examining systemic racism, diversity and inclusion, and social justice and equality.
Another measure UF has taken to diversify its curriculum was the establishment of a General Education Diversity Task Force last Spring. The task force's mission is to assess the current general education program and suggest ways for more diverse content to be incorporated in courses, as well as develop opportunities for students to engage with anti-racist practices.

Juliana Ferrie contributed to this report.
Contact Makiya Seminera at mseminera@alligator.org. Follow her on Twitter @makseminera.
---
How policing procedures and policies changed following calls for racial justice
Changes in Gainesville law enforcement focus on mental health and community relations following demands to address systemic racism

By Jake Reyes, Phong Huynh and Alexander Lugo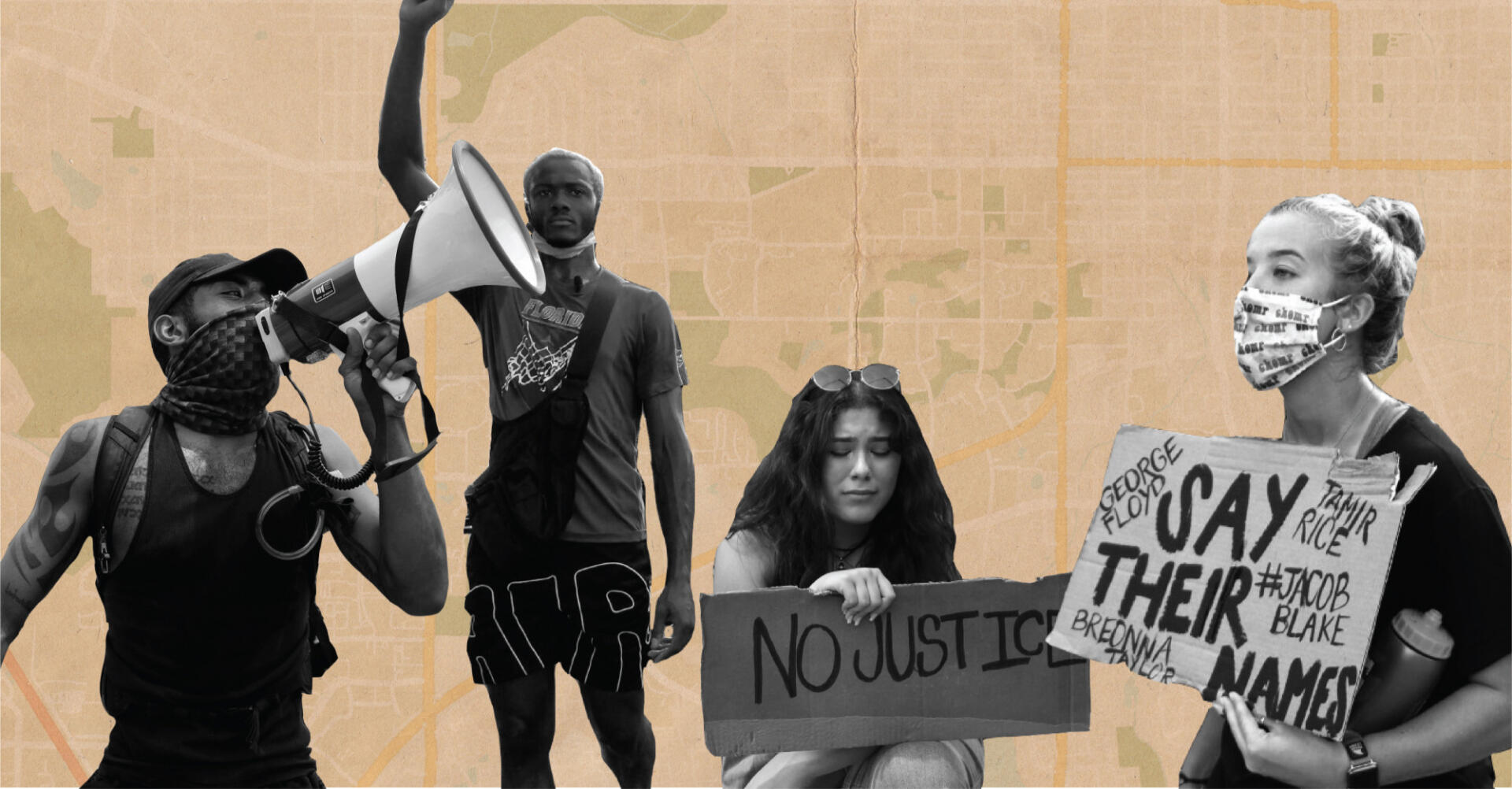 Graphic by Shelby Cotta
A year after Black Lives Matter protests shook the nation and Gainesville's streets, the city's police made efforts to focus on mental health responders and community relations.

Gainesville Police Department and the Alachua County Sheriff's Office implemented programs to decrease arrests and de-escalate mental health crises over the last year. GPD redistributed its officers to increase familiarity with the communities they patrol, while ACSO set up a unit dedicated to community outreach.

Some local racial justice activists agree the steps are going in the right direction, but others believe more work needs to be done.

MENTAL HEALTH RESPONSE
GPD and ACSO renewed focus on interactions with people going through mental health crises. Both departments are experimenting with mental health responder programs to help with de-escalation in crisis situations.

GPD's mental health responder program expanded from one to five positions last year, Gainesville Mayor Lauren Poe said. Instead of arrests, a GPD officer trained in crisis intervention and a mental health clinician de-escalate situations and get people to mental health services.

The mental health responder program had 655 interactions and 10 arrests in 2020, and 351 interactions with 10 arrests so far this year, Shelley Postle, a GPD corporal involved with the program, said.

Additionally, the city signed an agreement with the state attorney last month approving the diversion and deflection program, Poe said.

The initiative will send people to counseling or a restorative justice program instead of court for nonviolent misdemeanors like shoplifting or marijuana possession. A restorative justice program places a person who committed a crime face-to-face with their victim to help them understand the consequences.

"It puts a human face on it and it's no longer a victimless crime in their eyes," Poe said.

The city and county set aside money for constructing a central receiving facility, Poe said. It would receive people who would otherwise face arrest or a hospital visit during a mental health crisis. The center would be a part of Meridian Healthcare, which partnered with GPD for its mental health responder pilot program.

The project is now finding a location and securing state funding. Poe said he feels optimistic state funding will be provided because similar facilities are already funded by the state.

ACSO also implemented de-escalation tactics when responding to police calls. The office's mental health responder program has been in place since April 2020, Kaley Behl, an ACSO spokesperson, said.

The program has been composed of one mental health responder since its inception over a year ago and has not expanded since. The office hopes to grow the program in the future, Behl said.

About 80% of the officers completed Crisis Intervention Team training, a program focusing on training most people on the force for interacting with someone going through a mental health crisis, Behl said.

Officers are now required to intervene and report incidents where another officer acts outside their scope, Behl said. The policy was officially introduced in July 2020.

Officers were able to report before the policy but it is now reinforced on paper, Behl said.

"If you see an officer that's doing something they shouldn't be doing, you're supposed to stop it and report it, period," she said.

Clovis Watson Jr. was elected Alachua County's sheriff in November 2020. On the campaign trail, he promised de-escalation training, community engagement and a focus on mental health assistance. ACSO's mental health responder program and the reinforcement of its police accountability policy were implemented prior to the sheriff's arrival.

Sheriff Watson has not been interviewed since he became sheriff and did not respond to requests for an interview.

Mackintosh Joachim, a member of the NAACP UF Chapter, said GPD and ACSO are going in the right direction after implementing mental health responder programs.

The 22-year-old UF women's studies senior said mental health programs and training officers how to respond to crisis calls are major points he advocated for in last year's protests.

"We're sending people to mental health institutions to get the help they need," he said.

However, Joachim wants to see a psychiatrist or social worker respond to mental health calls in the future.

Professionals who studied mental health and work in those environments would be better suited for the job, he said. Sending social workers or psychiatrists would take the workload off police, he said.

In the meantime, having officers go through CIT training to de-escalate situations involving someone with a mental illness is better than no training at all, he said.

Chanae Jackson, a Black Gainesville activist who participated in multiple BLM marches in Gainesville, welcomes some of the changes but does not think the fight for equality is over. She wants to see progress from two sides: the government and the people.

Jackson advocates for more job training programs in Gainesville as she believes the workforce and better job training could reduce violent crimes.

"By fixing these social issues in our communities, we actually reduce the victimization and the realization of our people, and we improve the lives of Black lives," she said.

One of her most important advocacies is pushing people of color to vote. She said the issues in systemic racism start with elected officials.

"I want people to understand that the one place that everybody has equal power is in that voting booth," she said. "Anything else that we push, it won't matter if the people who have the like-minded ideas are still in the minority."

POLICE AND COMMUNITY RELATIONS
Another area of focus for reforms is community engagement.

ACSO implemented the government and community relations unit in January, spokesperson Kaley Behl said. One of the unit's purposes is to serve as a contact point for community members to address any concerns ranging from juvenile crime to gun violence.

"We have community leaders that are reaching out to us saying, 'Help me bridge this gap between law enforcement and the community,'" Behl said.

Behl did not provide specific names of people who called in.

GPD also emphasized reaching out to the community and making themselves more available for engagement. A key component for improving communication has been attending neighborhood crime watch meetings, neighborhood association meetings, business watch meetings and staying in contact with the NAACP as well as the Gainesville Chamber of Commerce.

Although the department was challenged by a nationwide shortage of police recruits, the department assigned officers to smaller beats in line with Chief Tony Jones' promise last year.

As of January, GPD is divided by zones and districts, which established more familiarity between the officers on patrol and residents, assistant police chief Lonnie Scott said.

Officers were originally divided between the city's east and west sides, Scott said. That divide is also how the city's neighborhoods are racially divided; East Gainesville is predominantly Black neighborhoods, and West Gainesville is predominantly white.

"We eliminated that designation," Scott said. "The optics of it wasn't right."

Evelyn Foxx, president of the Alachua County NAACP chapter, said her branch communicates with GPD on a monthly basis to find solutions for issues like the recent rise in gun violence.

She's pleased with the open communication and thinks the mental health responder program is a good initiative, but there's still work to do.

"We aren't where we need to be, but at least it's a start," Foxx said.

GPD's redistribution of its officers has also improved accountability in the department, she said.

Aeriel Lane, the organizer for last summer's March for Our Freedom group, said GPD has been more visible and involved in the community. She said GPD provided written documents and examples of how their funding was used toward the Reichert House and youth programs.

"They do a good job of attempting to build bridges in the community," she said.

But she considers the national response to George Floyd's death to be "slacktivism." They are not sustainable, long-term solutions, she said.

"Declaring Juneteenth as a national holiday is great and it also means nothing at the same time when it comes to advancement," she said. "And I believe that putting up a statue of George Floyd is counterproductive because it feels like, okay, we did this thing, check that box and let's move on to the next thing."

The BLM movement is not dead, but it is less visible, Lane said. She believes when a movement has lost attention, activism dwindles away.

"Things are always happening behind the scenes," she said. "But I think when it comes to how that contributes to the larger showing of activism, people who are on the outside see that as a dwindling whereas it's more of a quiet storm below the surface."

Changes in Gainesville law enforcement demonstrate local progress to address systemic racism; however, community members are uncertain about its future extent in addressing racial justice and the community's needs.

Contact Jake Reyes at jreyes@alligator.org, Phong Huynh at phunyh@alligator.org and Alexander Lugo at alugo@alligator.org. Follow them on Twitter @frlJakeReyes, @phongphont and @AlexLugo67.
---
Santa Fe College's staff address racial inequality
Thomas Beckwith won a statewide advising award for his presentation on the benefits and challenges of being a Black male academic adviser

By Antonia LaRocca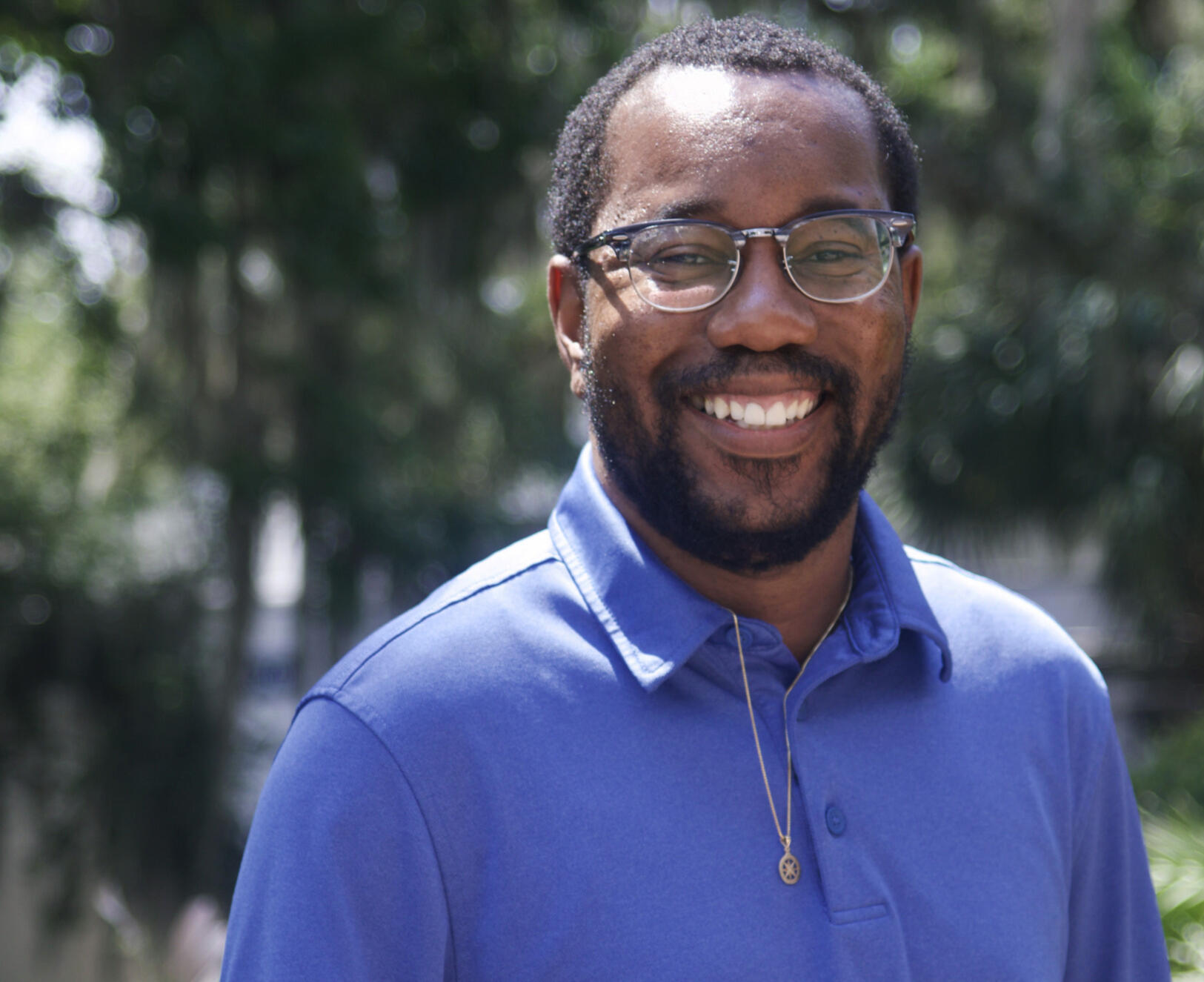 Thomas Beckwith, a coordinator for the Santa Fe College Academic Advisement Center, stands in front of Building R at Santa Fe College's northwest campus on July 23, 2021.
(Photo by Antonia LaRocca)
After working over six years in academic advising, Thomas Beckwith's efforts advising students as a Black man have reached community and statewide recognition.

Beckwith drives 60 miles from his home in Fleming Island, Florida, to the Santa Fe College Academic Advisement Center, where he applies his passion for education by helping students reach their goals.

Beckwith received the "Best of State" advising award from the Florida Academic Advising Association for his 2021 FLACADA conference presentation titled, "The Benefits and Challenges of Being a Black Male Academic Advisor in an era where Black Lives Matter," according to a Santa Fe press release.

Santa Fe and Beckwith are committed to working toward eliminating racial disparities and increasing diversity with knowledge from Beckwith's personal and professional experiences and Black Lives Matter protests during the Summer of 2020 with George Floyd's death.

Since starting in January 2020 as coordinator for the Santa Fe Academic Advisement Center, Beckwith said he assists students and provides leadership in his department. In his role, he helps students who are academically unprepared like he was when entering higher education, he said.

Beckwith's experiences as a Black man at predominantly white colleges allow him to relate to students and share what he has learned, he said.

"It's a way of paying a debt that I owe to society and also paying it forward and just being able to just clearly make a difference and impact," Beckwith said.

Beckwith's over six years in advising informed his virtual presentation, he said. He focused on media coverage of Black men, the construct of race and the benefits and challenges of being a Black male academic adviser.

His journey through education was not always easy.

Beckwith's father died when he was in eighth grade, and while living in Section 8 housing in Florida, he considered dropping out of school when he turned 16 to help his mother pay the bills.

The possibility of halting his academic education changed when his middle school assistant principal and mentor — a man he considers his father figure — provided support to him.

"He intervened and got on me, and he kept me out of the streets and from being incarcerated," Beckwith said. "A lot of my success is owed to him, along with many other people that helped me in life, but he was the one to help plant the seed and keep me grounded."

This outlook projected Beckwith into higher education, working his way from high school to a master's degree, he said. He is now pursuing a doctorate in education at Valdosta State University while working at Santa Fe.

At his colleges, being among a handful of students of color on campus was overwhelming at times, he said.

Although he is still among the minority at Santa Fe, Beckwith said he can be his authentic self as he creates a sense of belonging for underrepresented students.

Naima Brown, Santa Fe's vice president for Student Affairs, said she appreciates Beckwith's drive and the example he sets for the college.

"He brings diversity to that office and to Student Affairs and to campus where we often find ourselves short on Black male role models in higher education," Brown said.

In a June 2020 statement from Santa Fe College President Paul Broadie II following the death of George Floyd, the college said it is committed to eliminating discrimination, inequities and racial disparities while supporting diversity and social justice.

The college's Student Life provided a list of anti-racism resources for people to educate themselves on racial justice after Floyd's death.

Santa Fe requires all advising staff members to complete racial and equity training, Brown said. The college has programs like the College Achievement Program, a six-week program that teaches incoming underrepresented students social justice and career development skills, she said.

"We want to eliminate barriers to participation and achievement," Brown said. "We want to close performance gaps, and we want to create professional development to support a culture that meets students where they are and inspires them to thrive."

After the news of Floyd's death and Black Lives Matter protests, Andrea Evangelist, the director of Santa Fe's Academic Advisement Center, said she met with her staff to talk about the impacts on their personal and professional lives, as well as the students they were advising.

The college provided a virtual retreat to her staff Sept. 18, which focused on diversity, racial inequality and more, she said.

"What we've been doing is really trying to incorporate that awareness about what's going on in society and how that impacts different students into what we're doing on a daily basis," Evangelist said.

Santa Fe is also creating a program for advisers to meet with students outside of the advising center.

By going to informal locations like the Student Life office and the Learning Commons, the college wants students to access services in comfortable settings, Evangelist said.

The college added Juneteenth as an official holiday for the 2021-2022 year, Lela Frye, Santa Fe's human resources director, announced during the 2021 college budget presentation.

While it may be a long drive to Santa Fe's northwest campus, Beckwith said he is thankful for the chance to assist students.

"One great thing about being here at Santa Fe College is it has provided me with a great opportunity to do great work and to collaborate with great people and also have people within leadership that believe in the work that I do, as well as believe in having you be your authentic self within the institution," Beckwith said.

Contact Antonia LaRocca at alarocca@alligator.org. Follow her on Twitter @antoniarlarocca.
---
2700 SW 13th St.
Gainesville, FL
32601

352-376-4482
editor@alligator.org
---